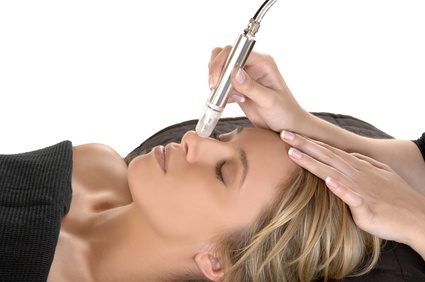 (45 minutes) 1 session $65 | 5 sessions $290 include express facial
Microdermabrasion is a non-chemical, non-invasive procedure that uses a spray of microcrystal to remove the outermost layer of dry, dead skin cells and reveal younger, healthier-looking skin. Microdermabrasion also encourages the production of a new underlying layer of skin cells with higher levels of collagen and elating, which further improves skin's appearance. This treatment uses extra-strength deeper exfoliation.

The ideal candidates for microdermabrasion are healthy adults who have relatively minor skin conditions or imperfections. Benefits: reduces or eliminates fine facial lines, wrinkles, and other signs of aging; it improves the appearance of acne scars and other light scarring, and gives the skin of all colors and types a fresh, healthy-looking glow. It does all this with virtually no side effects. Microdermabrasion uses non-allergenic crystals to treat the skin, it is an excellent treatment for skin that is sensitive to chemicals.