Eminence is a delicious skin care line that uses 100% organically grown, hand-picked fresh herbs, fruits and vegetables plus pure spring water in their nourishing, rejuvenating products. Rich in essential mineral, nutrients, vitamins and antioxidants, all Eminence products are chemical-free and suitable for all skin types. These truly invigorating products are scented by the active ingredients - delicious fruity aromas and herbal scents that leave you smelling as great as your skin feels. No matter what your skin condition, you'll immediately see and feel the difference in your skin with Eminence.

Eminence is committed to being the greenest company possible. Their ingredient farm in Hungary uses geothermal heating, and is powered by solar and wind energy. They use only natural compost and natural plant preservation, plus all planting and harvesting is done manually to reduce carbon dioxide production. Plus, Eminence harvests only from controlled areas to avoid damaging native flowers and herbs. Finally, Eminence uses post-consumer recycled materials to create their packaging and print their letterhead. These are just a few of the many ways Eminence is working toward a greener, healthier planet.

Eminence are handmade without any severe heating or hydrogenating processes that can affect the nutritional content and potency of natural ingredients. Vitamins are captured in their all-natural fresh base, offering dramatic results as actual seeds, pulps and peels impart regenerative and healing powers that only nature can produce.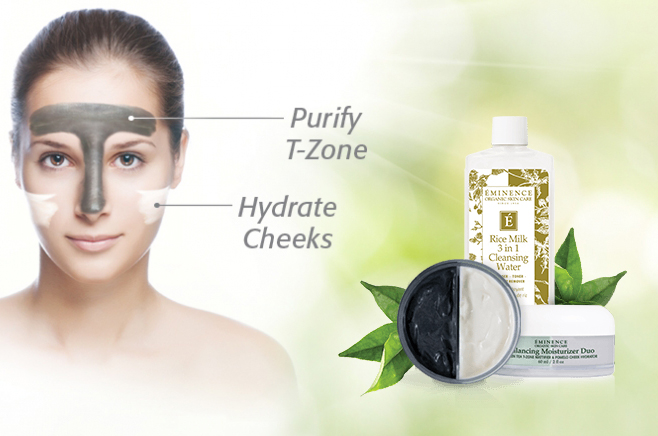 New! Balance Collection from Eminence

Oil control, Hydration and Pore Refinement for Combination Skin.

We are excited to be carrying the new Balance line from Eminence! 3 new products designed to balance oil control and hydration and bring harmony to combination skin. The moisturizer and masque duos actually give you 2 products in one while the 3 in 1 cleanser cleanses, tones and remove make-up in one.

Rice Milk 3 in 1 Cleansing Water $48 Cleanser, toner, & makeup remover. Nutrient-rich rice milk hydrates and moisturizes the look of skin while tightening the appearance of pores. Antioxidants and vitamins derived from fresh Pomelo juice help provide an even, youthful looking appearance .

Balancing Moisturizer Duo $68 Green Tea T-Zone Mattifier Improve skin's vitality by controlling the appearance of breakouts and pore size with this refining skin mattifier. Antioxidant and vitamin-rich green tea works with the active botanical ingredient derived from buchu leaves, to reduce the look of blemishes and oil on the skin. Willow Bark and tee tree oil sooth and repair the look of skin, leaving behind a moisturized and revitalized looking complexion.

Balancing Masque Duo $54 Charcoal T-Zone Purifier Deep cleansing pore refining masque for combination and oily skin types especially problem skin Clarify skin's overall appearance and texture with this revitalizing and purifying masque, designed for the oily T-Zone area. Kaolin clay and charcoal detoxify skin, drawing out oil, dirt and bacteria that cause excess sebum. The botanical active extracted from buchu leaves decreases oil production and reduces the look of pore size, leaving skin with a mortified and smooth appearance.